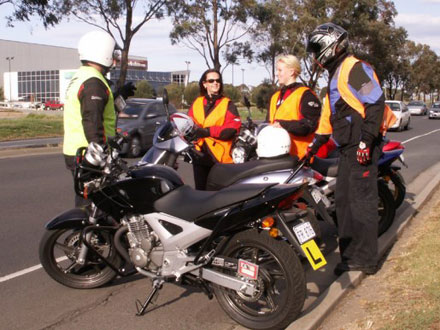 Imagine if you learned to drive a car the same way as you learn to ride a motorcycle. No scared parent beside you, no instructor with a set of their own pedals.
Some states require you to ride with a supervisor, following in another vehicle, but this isn't always practical or desirable for either the learner or the teacher.
Instead, riders often learn their craft at a racetrack, before being let out into the big bad world on their own with an L plate on the back of their new two-wheeler.
So imagine going to Eastern Creek for a couple of days and then heading out in a car on your own.
Sure, a closed-off track helps you learn to control a vehicle, but without other road users, intersections or traffic lights, it's hardly preparation for the road.
Most motorcyclists will already have a car licence and should be used to dealing with road conditions, but to a lot of people it makes little sense to learn on a track.
Victoria is the first state to have addressed this with new rules for learner riders commencing in March. Under the new Graduated Licensing System (GLS) the learner's course involves an on-road component, in which riders are supervised and shown potential hazards in-situ, rather than in a classroom.
It's now harder to get your licence, but will it put people off buying a two-wheeler?
For more information please download and read the full pdf article below.